40-30 will attend ITER Business Forum 2019
After the last edition in 2017, we are pleased to invite you to participate in the next ITER Business Forum (IBF/19), which will take place in the Conference centre, a masterpiece of contemporary architecture in Antibes Juan-les-Pins (France), from 26 to 28 March 2019.
The ITER Project is a globe-spanning collaboration of 35 nations. As signatories to the ITER Agreement, concluded in 2006, the seven Members, China, the European Union, India, Japan, Korea, Russia and the United States, will share of the cost of project construction, operation and decommissioning. They'll also share in the experimental results and any intellectual property generated by the operation phase. Twenty years of collaborative research experiments are planned on the machine.
Europe is responsible for the largest portion of construction costs (45.6 %), the remainder is shared equally by the 6 other members (9.1 %t each).
40-30 takes part in this great adventure as an industrial support in vacuum technologies and in particular with NDT (Non Destructive Testing) leak testing. The Air Liquide 40-30 consortium (AL 40-30) signed an industrial support contract in 2014 with ITER Organization on behalf of the vacuum group. We also work on engineering and maintenance topics for a group of industrial companies that have won markets with ITER Organization and the Fusion for Energy (F4E) network.
Our core business is based on service around vacuum technologies and processes. We provide in particular maintenance and repair of vacuum pumps, leak detectors, electronic components and subassemblies, accessories and other high-tech equipment. We also offer a wide range of associated services such as decontamination and ultra clean parts cleaning, leak testing, residual gas analysis and calibration of vacuum gauges down to 10-8 mbar.
Do not miss the opportunity to meet 40-30 during ITER Business Forum at the Conference centre, Exhibition Hall Level 2, of Antibes Juan-les-Pins.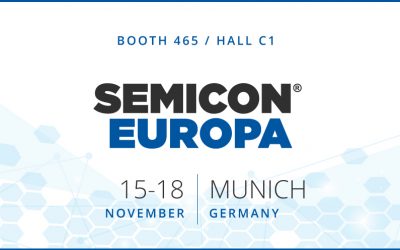 Visit us at SEMICON Europa 2022 in Munich, from 15th to 18th of November. Visit us at our booth C1-465.
read more