Electronics - Electrotechnics
Electronics facility
40-30 France electronics facility performs more than 2000 jobs yearly. We are dedicated to repairing from electronic component level up to sub-assemblies.
Maintenance capabilities
Analogue and digital LV and HV sub-assemblies.
Boards, variators, robots, regulation systems, frequency converters, controllers, connection cables, screens.
Industrial Radiofrequency. RF/DC generators, RPS, Matches, measurement systems, plasma sources…
Chillers, heat exchangers.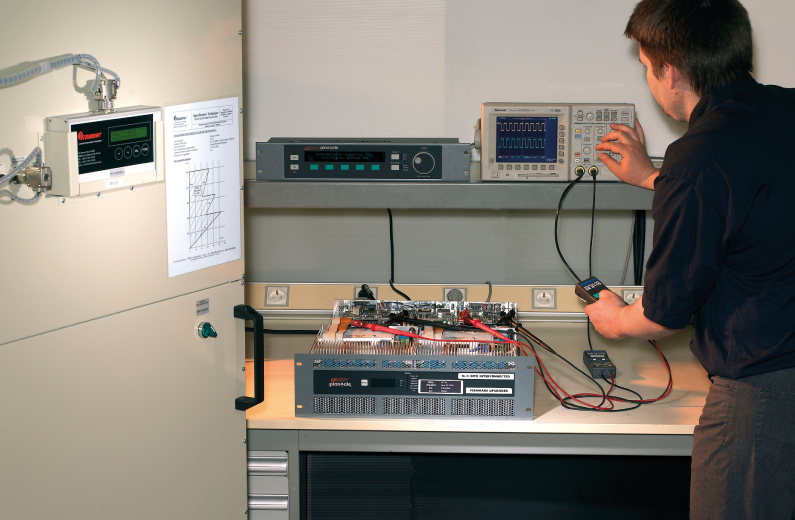 Examples of serviced brands
Pacific scientific
Neslab
ADVANCED ENERGY
Binder
Sapratin
Lauda
SMC
Julabo
MKS
Thermo scientifc
…
Markets served
ACADEMIC RESEARCH
LIFE SCIENCE
FOOD INDUSTRY
PLASTICS
COATING INDUSTRY
METAL TREATMENT
AUTOMOTIVE
SEMICONDUCTOR
THIN FILM DEPOSITION
PHOTOVOLTAICS
NUCLEAR
AEROSPACE
References
CEA
LAM
AIR LIQUIDE
ALCATEL
E2V
CORIAL
THALES
STMICROELECTRONICS
ESRF
SOFRADIR
…
Additional services
Fuses replacement, boards cleaning, Batteries exchange, wire and plug control, infrared camera heating control
Capabilities
Voltage, Current, Power, Frequency, Impedance, Dielectric Test, Noise, Rf Measurement, Magnetic Field